Director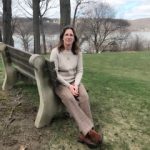 Andrea Pesavento is a Licensed Clinical Social Worker. She earned her B.S. in Sociology with a concentration in Criminology from the State University of New York College at Cortland and her Masters of Social Work from Adelphi University. Andrea is able to provide one-on-one confidential support for students for alcohol and other substances. She also provides one-on-one support and referrals for nutrition, sexual health, helping a friend, or any other health/wellness concern. Andrea is from the Hudson Valley, she enjoys spending time with her family, friends, hiking, and being outdoors.
Program Coordinator/Health Educator
Nicole Adamo is the Health Promotion and Education Program Coordinator/ Health Educator. Nicole earned her M.S. in Student Affairs Administration from Binghamton University. She has also earned a B.S. in Communications Studies and Women and Gender Studies from SUNY Oneonta. She works closely with the Wellness Peer Educators to create programs around health and wellness for students. Nicole believes in supporting students holistically, especially when it comes to students health and wellbeing. Prior to working at Vassar, Nicole served as a Resident Coordinator at Dutchess Community College providing holistic support, advising and crisis care to college students. In her spare time she enjoys cooking, crafting and spending time with friends and family.
Health Promotion and Education
124 Raymond Avenue
Box 373
Poughkeepsie, New York 12604-0373
Main Building, S-180
Vassar College Box 373