Health Update Regarding the Gastrointestinal Infection on Campus

Patient Portal - Use the Medicat service to self-schedule appointments, access patient education material, and send secure messages to Health Service providers. More information.

VassarTogether - Return to campus spring plan. Health & Safety information.

How to Upload COVID TEST Information into your Vassar College Electronic Health Record
General COVID FAQ Spring 2022
FAQ for COVID Housing Assignments Spring 2022
COVID19 vaccine information in New York State
How to Upload COVID Vaccine Information into your Vassar College Electronic Health Record

Dutchess County Covid Helpline - Call or Text (845) 486-3555
Directed by Margot Schinella, FNP-C, and staffed by a physician, physician's assistants, a nurse practitioner, and nurses, Health Service provides routine primary medical care to Vassar students and deals with emergencies.
Health Service also coordinates with students' home physicians to provide care for chronic conditions and makes referrals to local specialists or hospitals when necessary, or upon request of the student.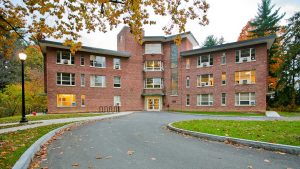 The student Health Service is located in Baldwin House. During the academic year, Health Service hours are 9:00 am–5:00 pm, Monday through Friday, and 12:00 noon - 4.00 pm on Saturday and Sunday.
Daily clinics for nursing, medical, and gynecological care are maintained on weekdays from 9:00 am–12:00 pm and 1:00–5:00 pm. Appointments can be scheduled during office hours by calling (845) 437-5800 or by scheduling through the patient portal. Emergencies and urgent care walk-ins can be seen immediately when the Health Service is open. When the Health Service is closed, students may access the "Night Nurse Triage" line by calling (845) 437-5800. A member of the medical staff is on call outside of clinic hours.
In case of a medical emergency, call the Campus Response Center (CRC) at (845) 437-7333 to dispatch either New York State certified EMTs or an ambulance.
In the medical clinics, routine primary care is offered with referral to local specialists or hospitals as needed. Health promotion and disease prevention are emphasized through a variety of programs. Gynecological services, including birth control. counseling, etc are available. Similarly, medical lab testing is provided as are therapeutic medications. Some of these services and prescriptions may be provided to students at a minimal charge.
Hours
Weekdays
9:00 a.m.–5:00 p.m.
Clinic Hours
Weekend
12:00 p.m.–4:00 p.m.
Clinic Hours
Weekdays
5:00 p.m.–9:00 a.m.
Night Nurse Triage
Weekend
4:00 p.m.–12:00 p.m.
Night Nurse Triage
Hours are academic year only.