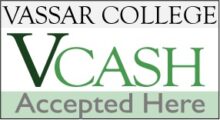 The VCash account on your VCard is accepted for payment off campus at a variety of local shops, all within easy walking distance of the campus. Rent a video, buy a book, dine on a variety of cuisines or stop by your favorite coffee shop or deli.
VCash works just like it does on campus; your ID card is swiped at the point of purchase and the funds are deducted from your account.
Along with Vcash, student will receive $105 in Arlington Bucks each semester which is also accepted at all off campus establishments accepting VCASH. Check out our list of off campus vendors accepting VCASH. Unused Arlington Bucks expire at the end of the semester. With the variety and quality Arlington has to offer we'll be surprised if you're not looking for more!
For more information, see our Policies.
Merchants